IT Training
We provide different levels of training for each software, from beginner to expert. Our training is customized according to the customer needs and requirements.
 What Is Included In Our IT Training
Cisco Certified Network Associate
What Is CCNA?
CCNA (Cisco Certified Network Associate) is a popular, highly sought-after IT certification developed by Cisco Systems.
A CCNA certification can help you get your first networking job or get help with your career progression if you currently work in Information Technology (IT).
Why Become CCNA Certified?
Do you have an interest in computer networking?
Do you want to work in the networking field?
If you answered "yes" to either of these questions, then you should consider studying to become CCNA certified.
What Will You Learn?
You'll develop a complete understanding of computer networking and internetworking
You'll learn how to configure and troubleshoot Cisco devices
What Types Of Jobs Can I Get With A CCNA?
Network (Systems) Engineer
Network Administrator
Network Programmer/Analyst
Network/Information Systems Manager
Network (Service) Technician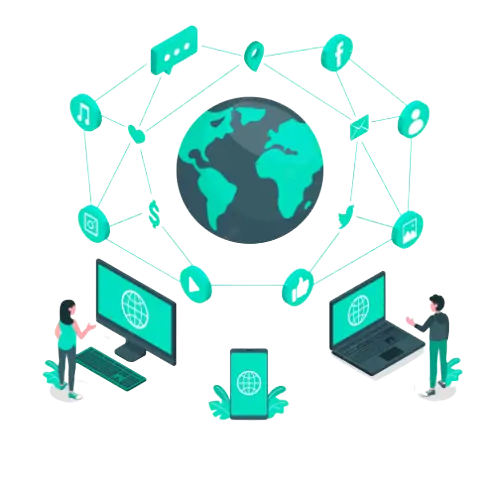 Network+
There is a very obvious aspect of N+ is its universal approach. Unlikely earning a CCNA or MCSE earning a N+ certification gives you a helping tool to be a network technician in various sectors. As a Network+ certified technician, you are prepared to work on different types of networks, because the exam covers the general approach to the various network, rather than being specific to any certain network.
The Network+ Exam certifies you as a "CompTIA Certified Networking Technician," but "help-desk specialist" is certainly not the only position open to you as a Network+ technician. Actually, there are many paths open to you such as Network Engineer (Technician).
N+ Detailed Course Outline
Lesson 1: Network Theory

Lesson 2: Network Communications Methods

Lesson 3: Network Media and Hardware

Lesson 4: Network Implementations

Lesson 5: Network Models

Lesson 6: TCP/IP Addressing and Data Delivery

Lesson 7: TCP/IP Services

Lesson 8: LAN Infrastructure

Lesson 9: WAN Infrastructure

Lesson 10: Remote Networking

Lesson 11: System Security

Lesson 12: Network Security

Lesson 13: Network Security and Threats

Lesson 14: Network Management

Lesson 15: Network Troubleshooting
Course Description
This course will prepare students to pass the current CompTIA Security+ SY0-301 certification exam. After taking this course, students will understand the field of network security and how it relates to other areas of information technology. This course also provides the broad-based knowledge necessary to prepare for further study in specialized security fields, or it can serve as a capstone course that gives a general introduction to the field.
Who Is Eligible
This course is targeted toward an Information Technology (IT) professional who has networking and administrative skills in Windows-based TCP/IP networks and familiarity with other operating systems, such as NetWare, Macintosh, UNIX/Linux, and OS/2, who wants to: further a career in IT by acquiring a foundational knowledge of security topics; prepare for the CompTIA Security+ Certification examination; or use Security+ as the foundation for advanced security certifications or career roles.
Benefits Of Security+
Upon completion of this course, students will be able to:
Identify security threats
Harden internal systems and services
Harden internetwork devices and services
Secure network communications.
Manage a PKI.
Manage certificates.
Enforce an organizational security policy
Monitor the security infrastructure.
Windows Server Administrator
The Server Administrator Curriculum will help you develop and demonstrate your knowledge and skills in working with Latest Microsoft Windows Server platform and prepare you for several different roles
including:
Windows Server Administrator
Server Systems Administrator
Monitoring Operator
Network Administrator
In preparation you will learn how to:
Handle day to day management of the server os, file structure and directory services
Handle software distribution and updates
Monitor servers
Troubleshoot servers
Configure the server
Implement an auditing policy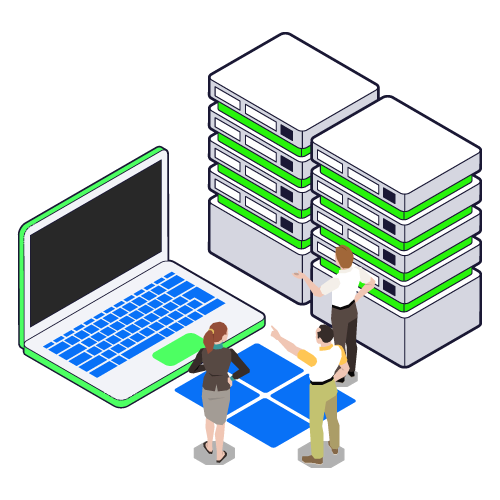 Some Of The Benefits Of Microsoft Certification
Career Opportunities
Earning a Microsoft certification verifies your expertise in working with Microsoft products and technologies. A Microsoft certification shows that you are a technical leader with the ability to successfully implement Microsoft business solutions for your organization or client.
A Firm Foundation Of Skills
Preparation for certification requires that you cover all aspects of the product or technology you are studying. The rigorous exam development process includes extensive job task analyses, reviews by internal and external technology experts, and beta testing to ensure the relevancy and accuracy of each certification.
Validation Of Knowledge And Skills
The information technology (IT) industry, your employer, clients, and peers will recognize your MCP credential as validation of the knowledge and skills you have gained through experience.
Increase In Salary
The Microsoft certifications will increase you worth in your current position and those that you are applying for. Employers specifically look for the Microsoft qualifications as they show you have the skills for the job. The average wage for IT professionals in the UK is £41,000 and MCSE's earn between £35- 40,000 pa
Promotional Opportunities
Have you been overlooked or not been successful in applying for promotions? Becoming certified will show you have the tenacity and confidence to fulfill opportunities at your current workplace. Let your manager know you are studying the most recognized certifications in IT and you will see the difference.
Promotional Opportunities
Have you been overlooked or not been successful in applying for promotions? Becoming certified will show you have the tenacity and confidence to fulfill opportunities at your current workplace. Let your manager know you are studying the most recognized certifications in IT and you will see the difference.
Deploy, configure, and manage a virtual infrastructure environment ESXi and vCenter
Create, configure, migrate, manage, and monitor virtual machines and virtual appliances
Manage role-based access to the VMware® virtual infrastructure
Use vCenter Server to monitor the resource usage of an environment and plan scalability of the environment
Implement VMware vSphere® High Availability and VMware vSphere® Fault Tolerance for virtual machine Protection
Use host profiles to manage ESXi configuration compliance and large scale deployment
Use vSphere distributed switches to scale networking
Use policy-driven storage and VMware vSphere® Storage DRS™ to scale storage
Use VMware vSphere® Update Manager™ to apply ESXi patches
Use VMware vSphere® Management Assistant to manage and monitor a vSphere environment
Deploy ESXi, vCenter Server, and VMware® vCenter Server™ Appliance™
Use VMware vSphere® ESXi™ Image Builder CLI to create an ESXi image and use that image with VMware vSphere® Auto Deploy™ to provision ESXi hosts
Intended Audience:
This course is designed for new and experienced system administrators, systems engineers and system integrators willing to work hard to achieve superior vSphere skills with minimal time away from the office
Prerequisites:
System administration experience on Microsoft Windows or Linux operating systems
Understanding of concepts presented in the VMware Data Center Virtualization Fundamentals course or VCA-DCV certification
Course Outline:
Course Introduction
Software-Defined Data Center
Creating Virtual Machines
VMware vCenter Server
Configuring and Managing Virtual Networks
Configuring and Managing Virtual Storage
Virtual Machine Management
Access and Authentication Control
Resource Management and Monitoring
High Availability and Fault Tolerance
Network Scalability
Host Scalability
Storage Scalability
Patch Management
VMware Management Resources
Installing VMware Components
Host and Management Scalability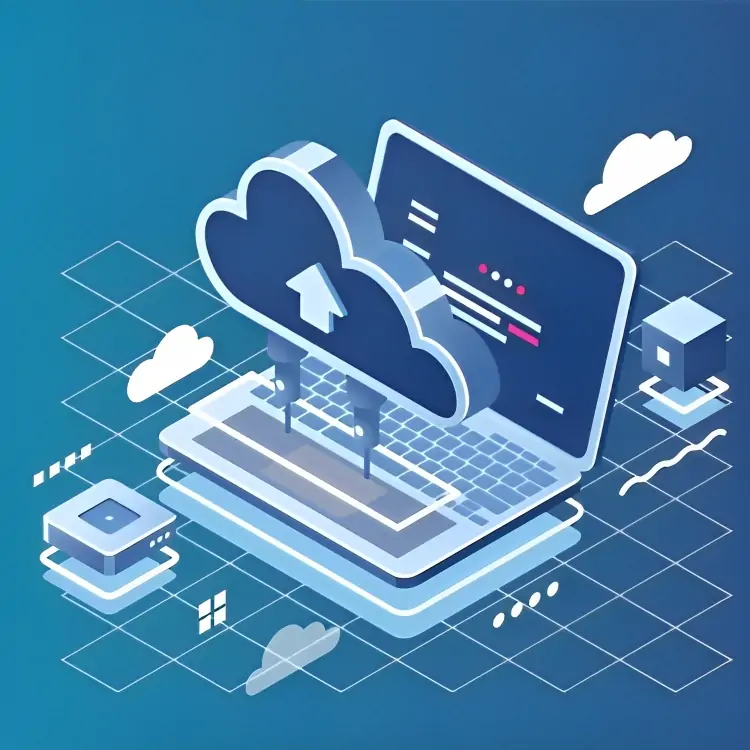 CheckPoint Firewall course provides top-notch quality security in contrast to any other firewalls available in the market. CheckPoint course is the leading industry dealing with Next-Generation Firewall and other Firewall courses. It comprises deploying firewall platforms and policies, configuring Virtual Private Network (VPN) tunnels, keeping a check on traffic and connections, and deploying Gateways.
Mastering this firewall would open doors to numerous highly-paying job opportunities. CheckPoint training defends against ransomware attacks, cyber-attacks, and malware attacks with CheckPoint Firewall.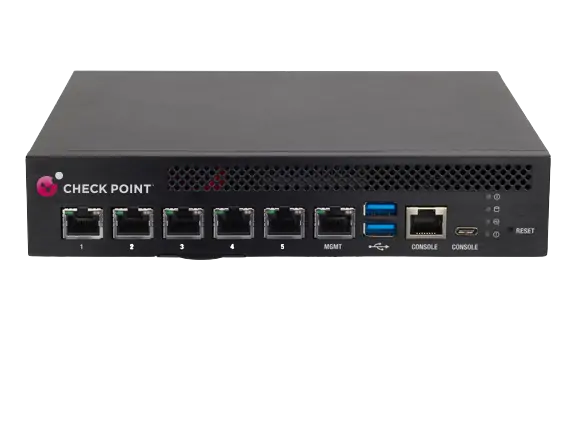 CheckPoint Firewall Training Program
Check Point firewall certification is also known as the Next Generation Firewall (NGFW) training course. Check Point offers globally accepted security firewall technology.
CheckPoint training prepares you to remove and reduce 6th-generation cyber crimes. CheckPoint is an open platform for security (OPSEC) that encapsulates a spectrum of internal, endpoint, mobile, cloud, and web security solutions to protect the data and resources of corporate organizations and business communications.
This firewall certification is an entry-level firewall certification that validates a person who deploys, manages, and configures CheckPoint Security solutions.
Curriculum Designed For Checkpoint Firewall
Overview of Checkpoint Firewall

Defining a Firewall

Check Point Firewall Architecture

Check Point Firewall Overview

Creation of Lab of Virtual Machine/Cloud

Introduction to Checkpoint Components

Concepts of Policies and Network Address (NATing)

Cluster Introduction

Checkpoint Firewall Monitor

Checkpoint Basic Troubleshooting Commands

Checkpoint Firewall Backup

Checkpoint Policy Installation Flow Process

VPN Configuration Checkpoint Firewall
AWS Certification Training
Overview
In this comprehensive AWS course led by industry experts, you will learn skills such as AWS Elastic Cloud Compute, Simple Storage Service, VPC, Aurora database service, Load Balancing, Auto Scaling, AWS S3, etc. This AWS training will also prepare you for the AWS Solutions Architect certification exam.
What Are The Advantages Of This AWS Certification Course?
Our AWS training program is designed to help you master the AWS Cloud from the basics and pass the AWS exam on your first try. You can build a successful career in AWS with our well-designed course,
What Are The Prerequisites For Taking Up AWS Training And Certification?
Although there are no prerequisites for this AWS Cloud training, basic knowledge of any programming language and prior experience in cloud computing platforms will be beneficial.
Which Jobs Can I Get With AWS Certification Training?
You can apply for numerous jobs once you gain an AWS certification through the training, depending on the type of certification you have opted for. Some of the most sought-after AWS job roles are listed below:
AWS Certified Solutions Architect
AWS Data Architect
AWS Data Engineer
AWS SysOps Associate
Cloud Security Architect
AWS Developer
AWS Systems Administrator
AWS Certified DevOps Engineer
Cloud DevOps Architect
What Will You Learn In The Online AWS Training?
The following are the learning outcomes of this AWS Solutions Architect Associate course:
Efficient design and deployment of the AWS system
Cost-evaluation and cost-control mechanisms
Elastic Load Balancing on multiple EC2 instances
Data ingress and egress on AWS
Identifying relevant and suitable uses of AWS architecture
Lift and shift mechanism of AWS on-premises applications
Finding the right solutions based on computational, database, and security needs
And of course, be AWS Solutions Architect exam ready!
Microsoft Azure Infrastructure Solutions Training Overview
TARIT INFOCOM offers definitive training in Microsoft Azure certification. As part of the training, you will be learning about architecting Microsoft Azure Infrastructure Solutions
Microsoft Azure Training Overview
Azure is a public cloud computing platform that offers Infrastructure as a Service (IaaS), Software as a Service (SaaS), and Platform as a Service (PaaS), solutions for analytics, virtual computing, storage, networking, and other services. Azure helps organizations to design, deploy, and manage apps more rapidly and easily without acquiring and maintaining the underlying information technology components.
Our wide range of Microsoft Azure courses provides training in security, administration, development, and many other aspects of working with Microsoft Azure technologies. Attending our specially designed Microsoft Azure training courses will help learners become skilled at using Azure to design, manage, and administer cloud-based business solutions and attain their desired job profile in prominent organizations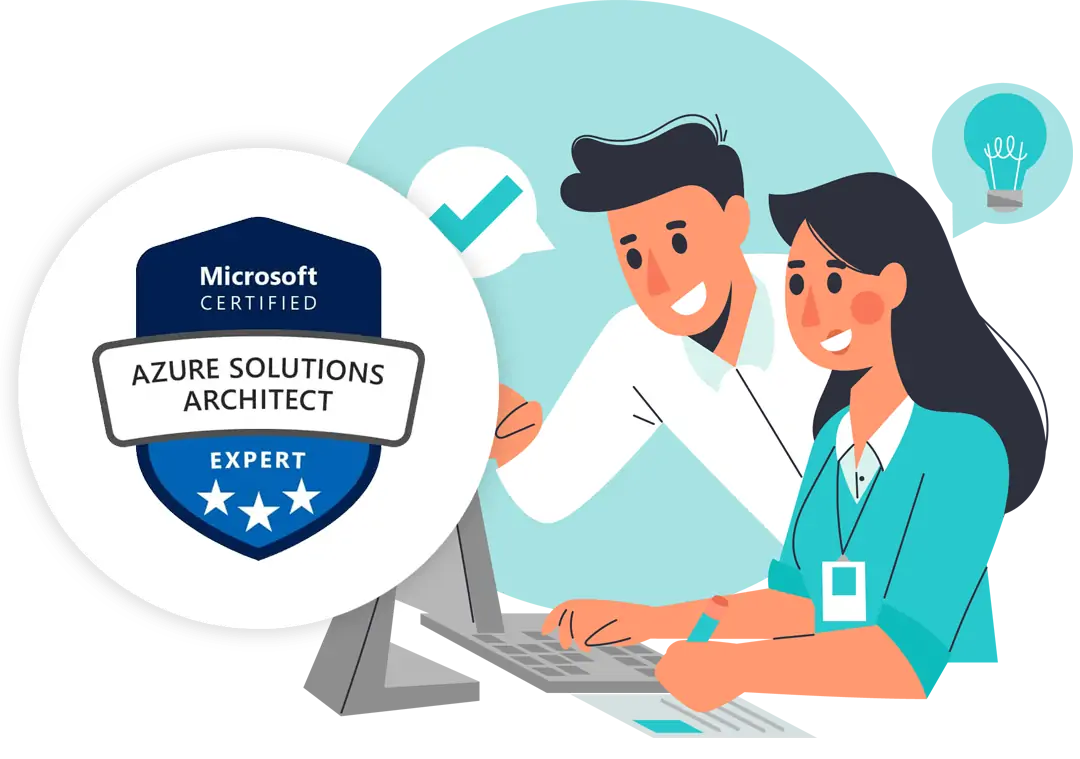 Microsoft Azure Fundamentals (AZ-900)
Microsoft Azure Fundamentals certification validates learners' ability to understand cloud computing concepts, along with Azure services, workloads, privacy, security, pricing, and support. Attaining this certification will help learners explore and gain various technical career opportunities that Azure offers.
Microsoft Azure Administrator Associate (AZ-104)
Microsoft Azure Administrator Associate is a role-based certification that validates professionals' ability to implement, manage, and monitor the Azure cloud environment. Attaining Microsoft Azure Administrator Associate qualification will help learners to become successful Azure Cloud Administrators, Azure Solutions Architects, along with others.
Hours
M-S: 8am – 9pm
24/7 Available
Call Us
+91-9911118859
+91-9911118880
+91-120- 4280391